Free scoring Seasiders' super start continues
---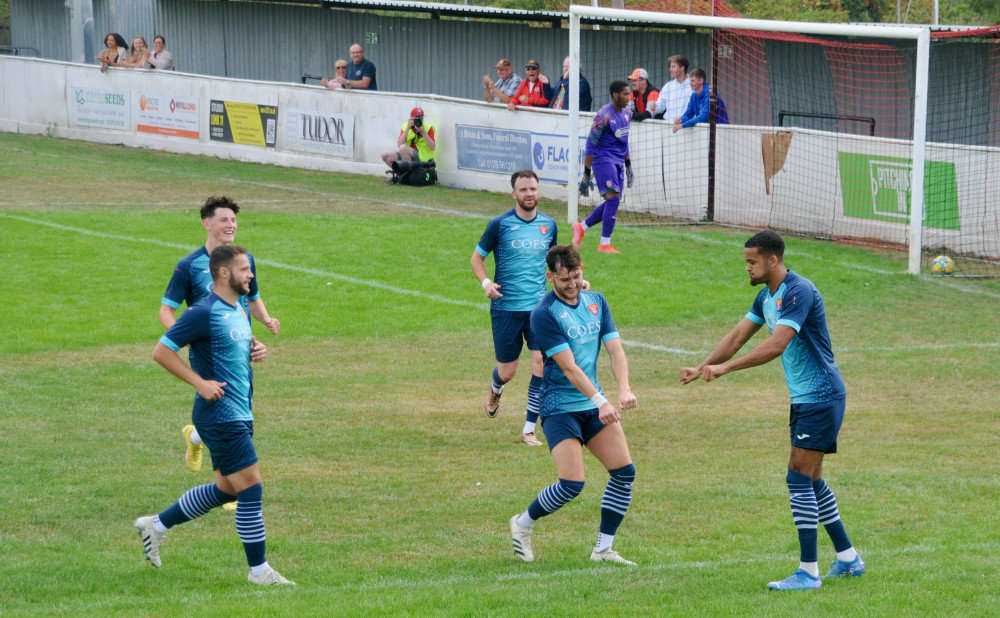 Noel Aitkens, right, celebrates opening goal imitating a lawn mower with Ollie Canfer (Picture credit: Felixstowe Nub News)
Recent signing Callum Harrison is among six Seasiders who have have already found the net nine times for Felixstowe and the free-scorers continued their unbeaten league run with a 3-1 win at Coggeshall Town.
Former Colcheter United Harrison, along with Josh Hitter and Noel Aitkens all grabbed their second goals of the season so far in the Seasiders' Isthmian Premier Division campaign and move them up to second on goal difference..
All three strikes were crackers as Aitkens hit a superb 22 yarder to open the scoring, which he celebrated by doing am imitation lawn mower celebration mocking the shockingly bad pitch at Coggeshall's West Street ground.

Callum Harrison netted his first Felixstowe goal (Picture credit: Nub News)
Hitter's was an equally sumptuous long range effort after a corner was cleared out to him, with Harrison's beauty, two minutes after the break, sandwiched in between.
Harrison signed from Chelmsford in the summer, after stints with the U's, Sudbury and Needham Market, and caretaker boss Andy Crump was delighted for the creative midfielder who posed plenty of problems for the ironically nicknamed Seed Growers.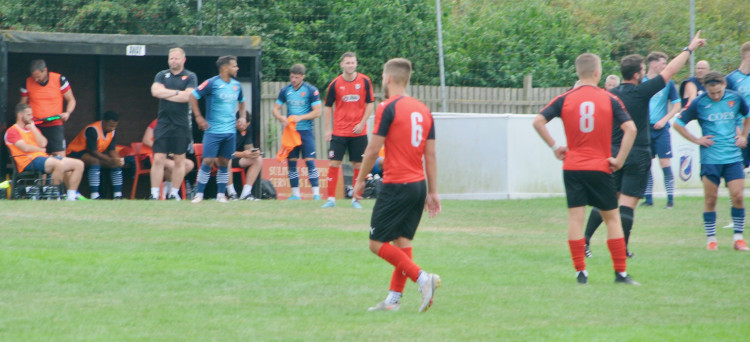 Crump masterminded win (Picture credit: Felixstowe Nub news)
"It was difficult surface to play attractive football but it is what it is," said Crump. "As it happen the three goals we got were very well taken and it was good for Callum to get his when he did as it came at a very good time for us.
"I was also pleased for Josh, because he was one left out on Saturday because we had two games in a short space of time, but he has shown a great attitude and took his goal well."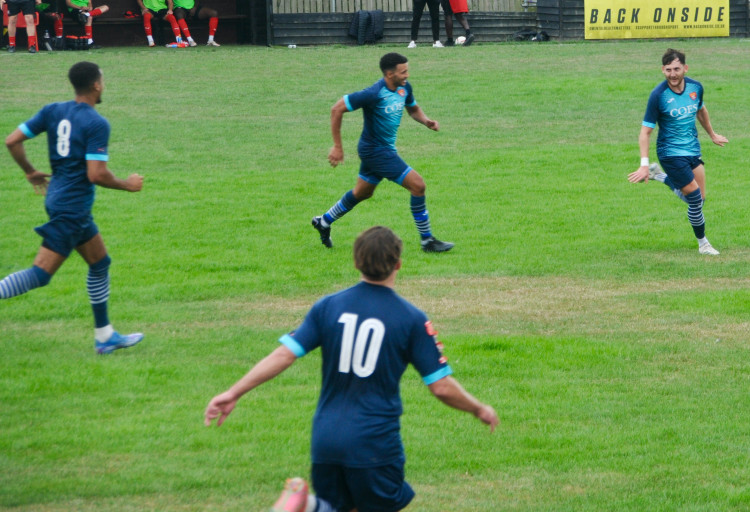 Josh Hitter celebrating (Picture credit: Felixstowe Nub News)
The Seasiders could have been a couple of goals up even before Aitkens dug the ball out of the undergrowth to net, as the Coggeshall keeper Akan George made a couple of vital point blank saves to deny skipper Billy Holland.
"We were probably unlucky not to be two up in the first five minutes, but their keeper made some good stops.
"We said before the game how important it was to show we could handle the pitch conditions better than them and we did that."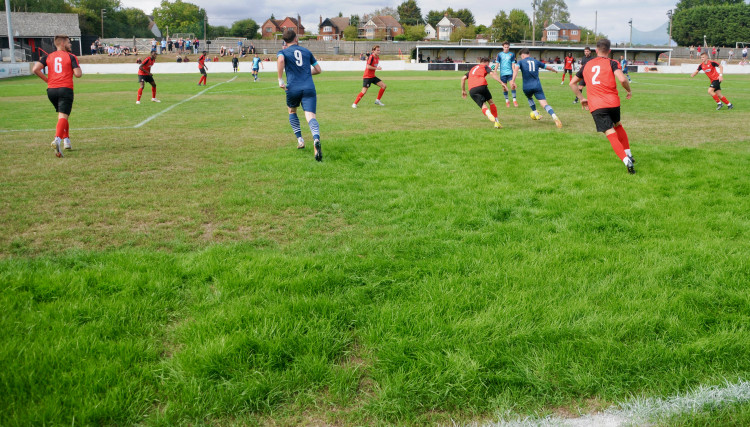 Action on a poor pitch (Picture credit: Felixstowe Nub News)
The Seed Growers grew in to the game for period before the break but Felixstowe defended well and Callum Robinson made coupe of good saves, with Town's Daniel Ogunleye proving a handful.
Crump said: "Callum earned his money for sure and that was because we became a bit disjointed and the communication was not as good as it could be.
"The yellow card for Milo (Grimes) also unsettled us a bit but in the second half were were back on it."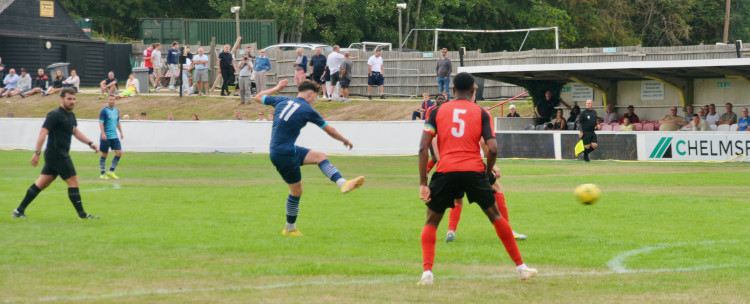 Charlie Warren tries his luck at Coggeshall (Picture credit: Felixstowe Nub news)
While former Coggeshall player Grimes was walking on egg shells, his former club were fortunate not to lose defensive midfielder Freddie King after he had already been booked once and then fouled Harrison just before half time but referee Nathan Oakes played advantage and could not book King retrospectively .
Crump said: "I try not to get too frustrated by things like that but ultimately we put in good all round performance and deserve all three points."
Felixstowe were so much in control in the second half that when there were two balls on the pitch at one time, one wag from the 157 strong crowd, yelled out: "Leave them both on there ref, that way Coggeshall can have one to play with."

Town did get late goal back when a deflected Cesario Mendez shot wrong-footed the otherwise excellent Callum Robinson.
Crump mused: "The goal was gutting, but, while you don't like conceding when you are three up, it came from the players still putting their bodies on the line. There had been three or four lads who had blocked shots in the lead up to that so you feel a bit frustrated.
"Whereas other times, goals have come from mistakes and we are working to stop those."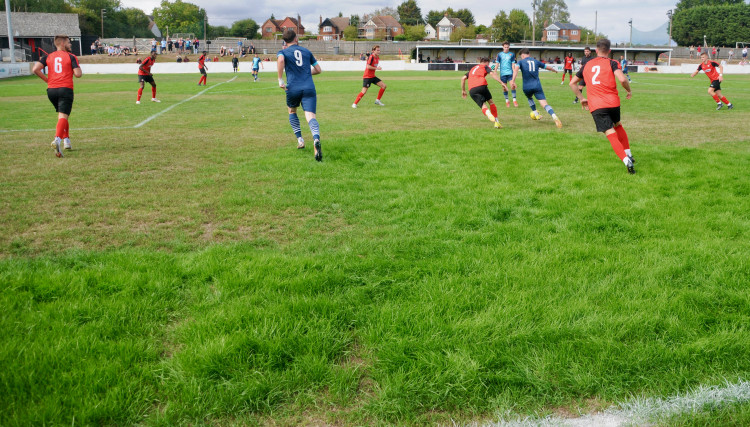 Action on awful pitch (Picture credit: Felixstowe Nub news)
But the fine win on to take Felixstowe second in the fledgling table has not stopped Crump being ready to hand the reins back to Stuart Boardley who returns from America this week.
""I'm not sure what is worse," laughed Crump, "him beside me going on about football, or him thousands of miles away doing it.
"I'm glad he is coming back and I know he has missed it."
With no FA Cup game this coming weekend, Felixstowe have time for break and work on how to get even more players on the scoresheet before they take on Burgess Hill Town in the FA Trophy at home on September 10.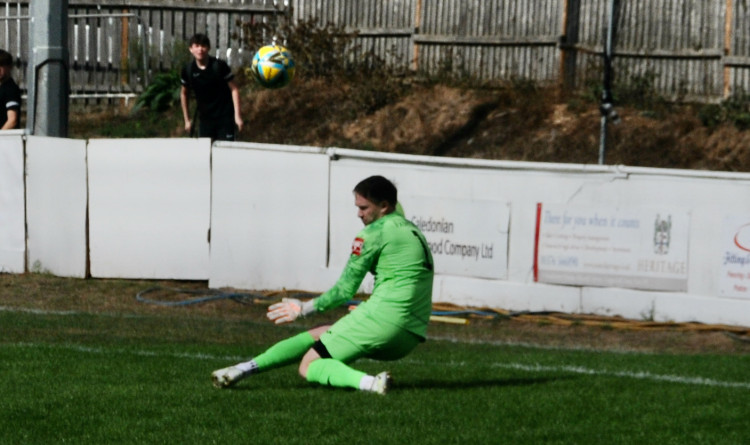 Callum Robinson saves (Picture credit: Felixstowe Nub news)