A Room With a View
---
Harvest House, Felixstowe
Thursday 11th August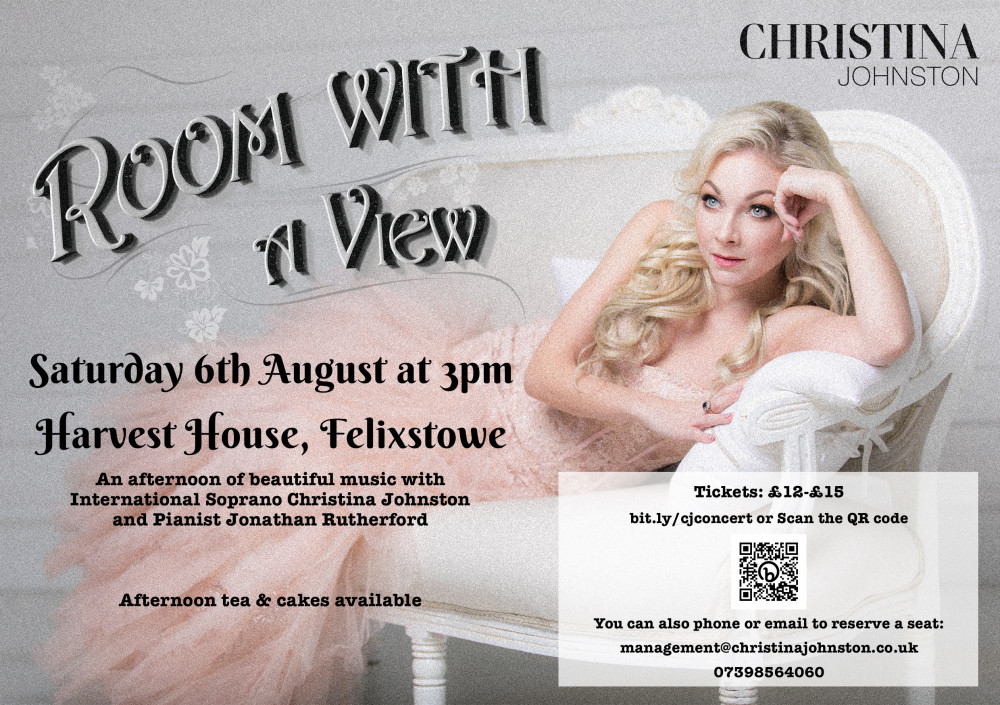 A ROOM WITH A VIEW
Rare and Exclusive intimate afternoon of beautiful music with International Soprano, Christina Johnston
International Coloratura Soprano, Christina Johnston will bring you an exclusive and intimate afternoon of beautiful music from iconic films like, A Room with a View and many more.
From Puccini's 'La Boheme' to Mozart's 'Don Giovanni' as well as Classical crossover classics.
Despite her young age Christina Johnston, internationally-renowned Coloratura Soprano became a firm favourite of Heads of State and Presidents including the President of China and the President of Czech Republic, where she has sung regularly, earning the name of "The Nightingale".
Christina has performed all over the world and with many musical greats including José Carreras and Russell Watson.
She has toured in South America, Asia and Europe and performed Operatic main roles such as debuting as Queen of the Night in Mozart's Magic Flute at the tender age of 21.
She has sung for many film scores and was asked last year (2021) for her voice to feature in Hollywood's Wonder Woman 1984.
So sit back and relax in this beautiful Royal location, once a hotel that hosted King Edward.
Christina will also be accompanied by the incredibly talented pianist Jonathan Rutherford playing you classics from "Out of Africa" to stunning musical hits like My Fair Lady and Phantom of the Opera.
Join Christina and Jonathan in this beautiful and breathtaking room for this very exclusive intimate concert. Enjoy the scenic views of the sea and sit back and relax with afternoon tea and cake to some beautiful and relaxing music.
Add your Felixstowe event for FREE here!
Nub It