Perfect play-off preparation for Felixstowe to pile pressure on Canvey
---
Stuart Boardley brought all his experience to the fore as Felixstowe warned up for Tuesday nigh's play-off clash at Canvey with an ideal performance and 3-0 victory over Coggeshall.
With the likes of regular starters Henry Barley, Billy Holland, and Ollie Canfer on the bench, the Seasiders still had more than enough to see off Ollie Murs' side with a ruthless performance.
Left winger Andre Hasanally was outstanding in the first half, stretching the Essex sides defence and leaving them in a constant state of panic with his inswingers.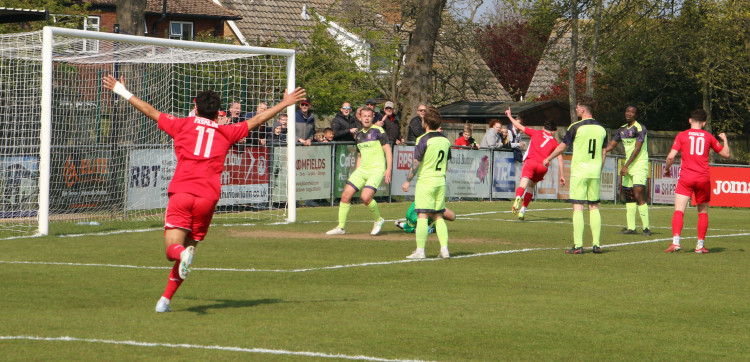 Charlie Warren (7) gets Felixstowe off to a winning start (Picture credit: Nub News)
Keeper Matthew Carer tipped one curling ball onto a post, but he was helpless when another Hasanally cross was met perfectly by centre half Sam Nunn who headed it downwards and back past the goalie.
Technical perfection all round after good build up play had found Hasanally in the first place.
Charlie Warren had already taken advantage of more muddled defending to finish well and Harry Knock grabbed a third in the second half.
Although Coggeshall saw more of the ball after the break, Felixstowe never really looked in danger and cantered home on front of 641 fans at The Goldstar Ground.
"It was important that we kept the momentum," said Seasiders boss Boardley. "Which is why we did not make too many changes while we made enough to protect certain players who have had knocks.
"Equally important was the attitude of the boys to have a changed side in an end of season game like this, and they were spot on."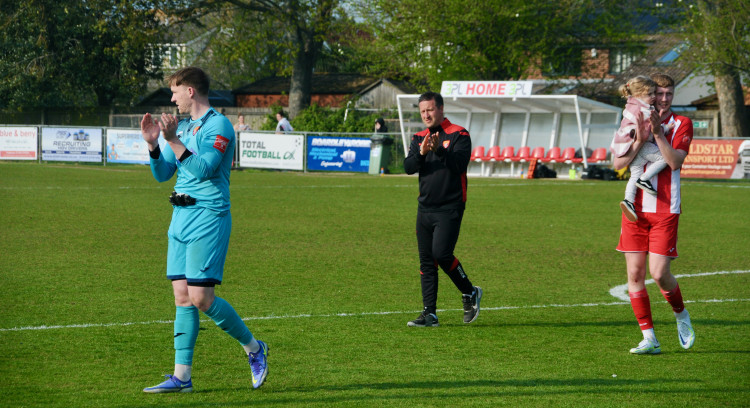 Seasiders boss Stuart Boardley (centre) (Picture credit: Felixstowe Nub News)
Felixstowe now rest up ready to go again at Canvey on Tuesday as they look to reach Friday night's Pitching In Isthmian Premier North division playoff final after finishing fifth.
"We have a great group that really look after themselves. We have some older platers that keep the younger ones in check at times and going into the play-offs as underdogs it is important e stay grounded ad see where that are sub."
Boardley's side clinched the last play off spot after winning all six of their games in April, but are happy to go to the Islanders' Park Lane ground as underdogs.
Boardley said: "We are on a really good run of form and hopefully other teams will see that and fear that, although equally Canvey finished above us in the league for a reason.
"We go there as underdogs and all the pressure will be on them as we have nothing to lose.
"We have beaten and lost to Canvey, similarly with Stowmarket and beaten Brentwood twice so we know we can beat all the sides in the play offs."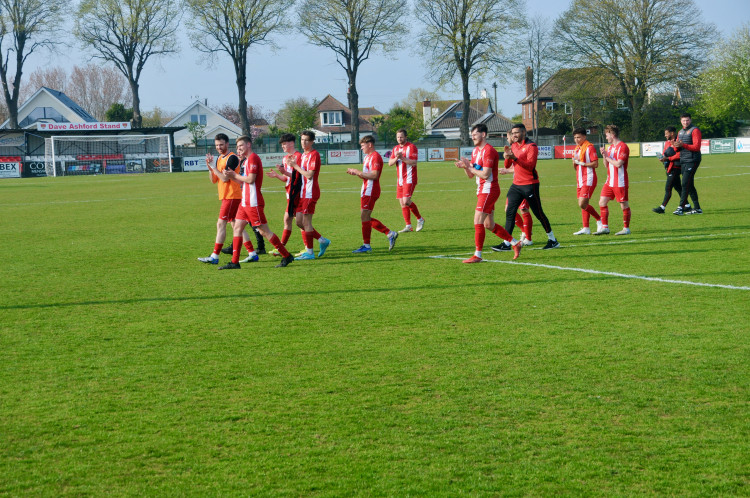 Players on a lap of appreciation (Picture credit: Felixstowe Nub News)
With a big game to come The Seasiders completed a lap of appreciation for the supporters and Boardley added: "We want to thank all the fans for coming out today for a game that did not mean an awful lot and I hope we can give them something else to cheer about."
Felixstowe and Walton are planning to take two coaches to Canvey Island. One leaving at 4pm, the second at 4.45pm. Seats can be booked by contacting Stuart Daynes, [email protected] - £10 a seat.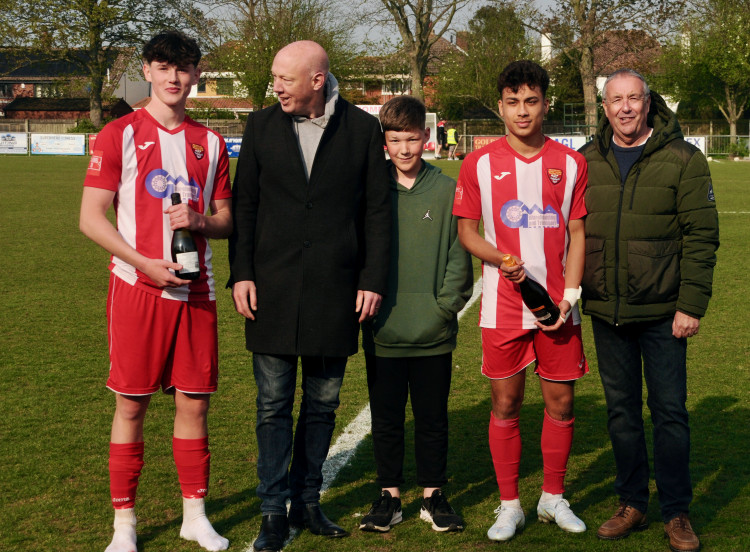 Charlie Warren and Andre Hasanally pick up their awards from match sponsor Richard Mayes and ball sponsor Emirates Logistics (Picture credit: Felixstowe Nub News)