Tuesday's Felixstowe Breakfast Briefing
Tuesday's on this day
We have now entered the Carolean era with King Charles III inheriting the crown from the late Queen Elizabeth II. The first Carolean era was associated with Charles II, who ruled from 1660 to 1685. The reign of Charles I, which ended abruptly with his execution in 1649, is usually referred to as the Caroline Age, based on the feminine form of the same name.
Sunrise: 06:38
Sunset: 18:57
Tide Times
01:24 1.39m
07:33 2.97m
14:07 1.21.m
20:04 2.95m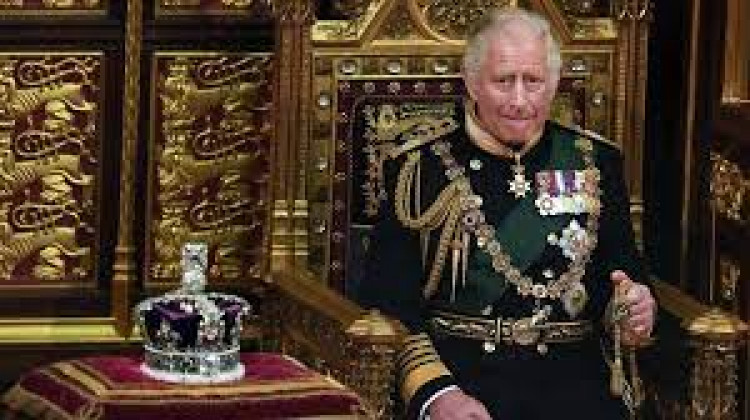 Weather:
Predominantly cloudy as residual rain and drizzle continue to clear eastwards. Early rural mist patches soon dissipating. A brighter afternoon, but with a chance of isolated, mainly light, showers developing. Maximum Temperature 18C.
Orwell Bridge:
Open
Joke of the day:
Why did King Charles III go to the dentist?
To get his teeth crowned…
Did you groan? (send us your own favourite joke).
Senior Service escort state funeral carriage
Radio Stations:
Felixstowe Radio Go here for website
Post Office Openings:
Bent Hill, Wolsey Garden:
Monday-Friday: 09.00 – 14.00
Saturday-Sunday: Closed
Felixstowe, Hamilton Road:
Monday-Friday: 09.00 – 17.30
Saturday: 09.00 – 14.00
Sunday: Closed
Old Felixstowe, High Road, East:
Monday-Sunday: 07.00 – 23.00
Walton High Street:
Monday-Friday: 08.15 – 17.30
Saturday: 09.00 – 12.30
Sunday: Closed
Trimley High Road:
Monday-Saturday: 06.00 – 22.00
Sunday: 07.00 – 22.00
Today's supermarket shop openings:
Co-op Hamilton Road:
Monday-Saturday: 07.00 - 21.00
Sunday: 10.00 – 16.00
Co-op Wadgate Road:
Monday-Saturday: 06.00 - 23.00
Sunday: 07.00 – 22.00
Co-op High Road West:
Monday-Saturday: 07.00-23.00
Sunday: 08.00 – 23.00
Co-op King Street, Walton:
Monday-Saturday: 06.00-23.00
Sunday: 07.00 – 22.00
Co-op Walton High Street:
Monday-Saturday: 06.00-23.00
Sunday: 07.00 – 22.00
Morrison's:
Monday Saturday: 06.00 – 21.00
Sunday: 10.00 – 16.00 (petrol 08.00 – 22.00)
Tesco metro:
Monday-Saturday: 07.00 - 22.00
Sunday: 10.00 – 16.00
Sainsbury's Warren Heath:
Monday-Saturday: 06.00-23.00
Sunday: 10.00 – 16.00
Lidl Langer Road:
Monday-Saturday: 08.00 – 21.00
Sunday: 10.00 – 16.00
Lidl Haven exchange:
Monday-Saturday: 08.00 - 21.00
Sunday: 10.00 – 16.00
This week's surgeries and dispensary times:
Grove Medical centre (283197) - Covid vaccinations available by appointment only
Monday-Thursday: 08.00 – 20.00
Friday: 08.00 – 18.30
Saturday-Sunday: Closed
Haven Health (670107)
Monday-Friday: 08.00 – 18.30
Thursday: 07.00 – 20.00
Saturday-Sunday: Closed
Howard House (282706)
Monday-Tuesday: 08.00 – 20.00
Wednesday-Friday: 08.00 – 18.30
Saturday-Sunday: Closed
Felixstowe Community Hospital (337600)
Monday-Sunday: 08.00 – 20.00
Bus services:
Check here for 77 service Monday to Friday timetable Live travel updates:
Check here for 75 service Monday to Friday timetable
Live travel updates:
Train times and traffic hold ups
Our daily Breakfast Briefing is proving very popular but we are always striving to improve the experience for you. If you have any suggestions for inclusion please email [email protected]